Biographical Information
Postal address

232 MacLaughlin Drive, Moncton, NB

CANADA E1A 4P7

Electronic mail

Comments or Suggestions - To help reduce SPAM please go to the Feedback page to send Email.

Sorry, Programming Questions will be ignored!

My beautiful wife's name is Jeanine. Our daughters are Alyssa and Samantha. My dog is Mickey and the cat is Sandy. I hope to add a few pictures here so you can get a look at everyone in our family.
I am a self taught programmer beginning with 68000 Assembler for the Amiga. From there I progressed to C and along the way learned Adobe Postscript and the old MS Basic. I played around with FoxPro and DBASE before I ended up writing AR and POS stuff in a Basic under the THEOS operating System. It was a good Basic dialect, direct ISAM stuff but no GUI whatsoever.
When the spreadsheets got too complicated it became time to try and generate a few Database apps in house. I had briefly visited Access a few years ago and in the late fall of 1998 decided to standardize on Access for all in house apps. In 1999 I started to get serious with Visual Basic and the API's. In late 1999 I dusted off my old C skills and started learning C++. In early 2000 I was selected to become a Microsoft Access MVP.
May 2008 - New addition to the family. Mickey, our beloved Golden Retriever passed away several years ago. Here is our new puppy named Bailey. He is a male Golden Retriever 9 weeks old.
The 2003 - 2004 season I am coaching two teams. The Riverview Mini A girls Provincial Team and the Moncton Juvenile Stars Provincial Girls Team. Photos coming soon!
For the 2002 - 2003 season I was lucky enough to coach three teams!
Moncton's entry in the Midget Girls Provincial Championships(we won!)

Hillcrest Middle School(we won the provincial championships)

House League bantam girls( we won the house league championships)

New Pictures from the Christmas Basketball Team party Dec 15, 2000.
Click to see a larger Image. (Sorry, did not notice the smudge on the lens until I transferred the pics to the Web site!)
From 1999
I coach my oldest daughter's Basketball team. Alyssa is the tallest girl, 4 down from me in the back row. She's 5'9" and only 12 years old. Thank God for genetics...she looks like her mother!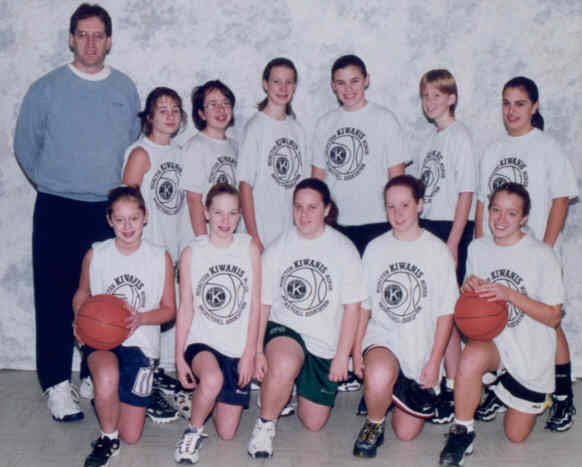 This is a shot from early 1999 of my youngest daughter, Sam's Basketball team. Sam is in the Front Row, third from the left.